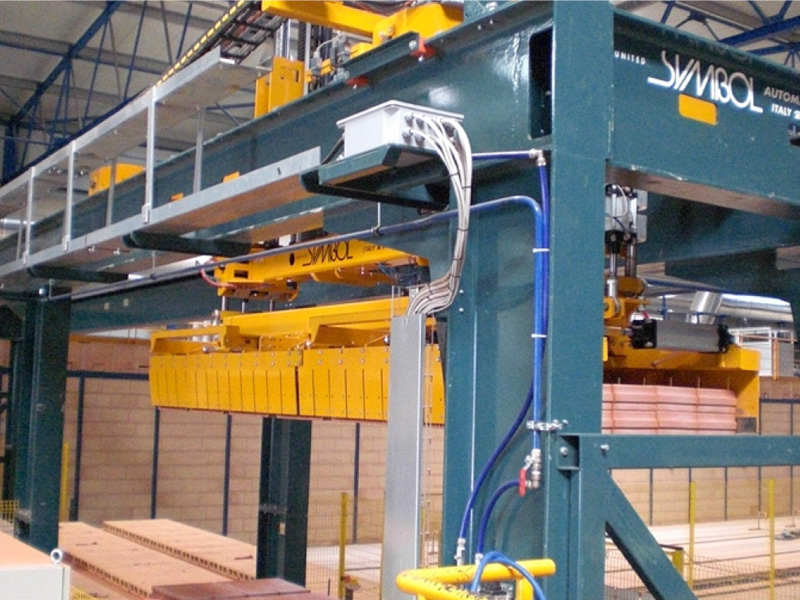 Cooked product unloading systems
A complete range of solutions for unloading the kilns in any type of extruded or structural ceramic and brick plant
A complete range of solutions for unloading the kilns in any type of extruded or structural ceramic and brick plant
The unloading systems for the cooked product are the element that connects the kilns with the end of the line inside the plants for bricks and extruded or structural ceramic. They therefore play a crucial role which from time to time must respond to the different characteristics of a wide range of different products. For this reason United Symbol, thanks to its forty years of experience in the sector, has developed a complete range of solutions that can cover every need in the unloading phase of the cooked product for each type of line and plant.
By unloading with gripping systems using traditional grippers or anthropomorphic robots, it becomes possible to continue processing along the production lines with any surface treatments, such as silicone coating, mechanical, such as grinding and chemical-physical, such as wetting for the treatment of lime (CaO). Or it is possible to create systems for unloading in direct "oven yield", with loading on wooden pallets or on preformed brick feet.
Before and after each treatment United Symbol can provide areas for quality control and conformity of the processed materials.
The design of each unloading system of the cooked product is made to measure for each customer, starting from the characteristics and needs of each plant. To always guarantee the highest quality, our specialized technical staff then tests the assembled equipment before proceeding with delivery. Finally, our assistance service remains at your disposal for any post-sale intervention.
Product feature
Design tailored to the needs of each customer
Only the best machines and the best components
Realization of oven discharge systems for each type of production
Test equipment before delivery
Complete assistance Italy – Abroad
Technical datasheet
Want more information about this product? Enter here your email and you will be sent the technical documentation and all the details to get in touch with our technicians