End-of-line Robotics, equipment and manipulators
United Symbol production focuses on all production support facilities such as palletizing, primary and secondary packaging, handling, transport (handling) and product management.
We are present in Italy, in Europe and in the world with more than 640 installations in over 31 countries that touch every kind of productive / industrial sector from Food & Beverage, to Extruded and pressed Ceramics, to Bricks, to Tissue & Nonwovens, to Pharmaceutical beyond than to the glass industry.
We offer our customers a wide range of products, with the possibility of customizing each solution in order to improve their production process, as well as maintaining a high quality work environment.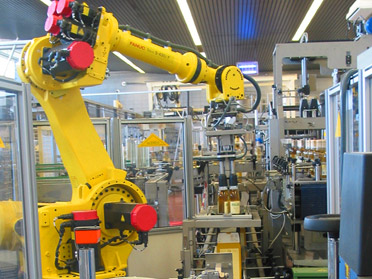 Robotics
Packaging and end of line
The latest generation anthropomorphic robots find a field in many industrial applications. The gripping members give effectiveness to the application, optimizing performance and results. United Symbol develops packaging, packaging, end-of-line and Wrap-Around systems for packaging products in a complete Industry 4.0 perspective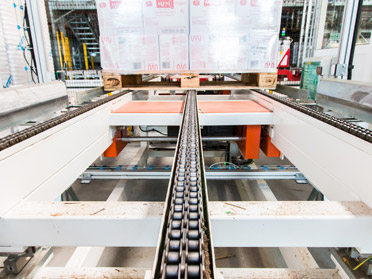 Equipments
Automation & Transport
Thanks to automatic conveyor solutions on the belt or roller it is possible to create highly flexible systems for loading and unloading the warehouse (handling), for servicing the work area or simply to create sorting and handling systems for pallets and / or boxes for the most varied industrial sectors or to better manage your internal logistics.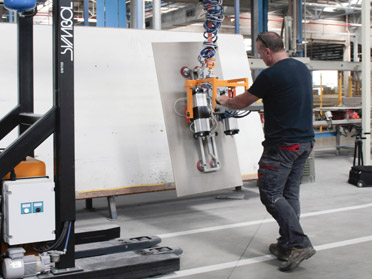 Manipulators
Move with simplicity
Our manipulators, in their various versions, are designed according to criteria of maximum safety and ease of use by operators to be at best placed in the industrial context in which they will be installed. All this is possible only thanks to the experience of our technicians gained over 38 years of activity in many industrial sectors. Taking everything "the right way" is our slogan.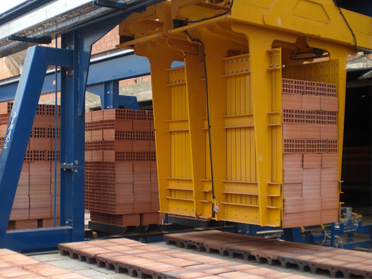 Bricks
Bricks and ceramics
We develop solutions for the handling, transport and packaging of: ceramic material, bricks, tiles, extruded tiles and much more. Thanks to our continuous innovation and research we have applied ourselves in every industrial sector that uses drying plants such as: bricks and structural ceramics, sanitary ware, tableware and insulation.