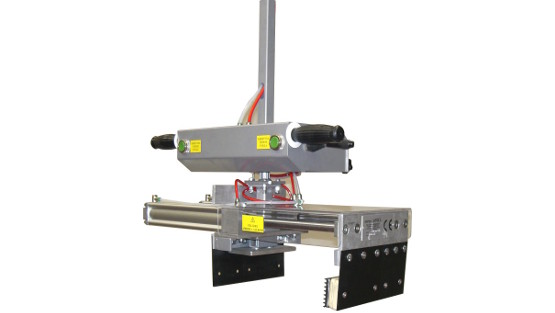 Easy
The industrial manipulator with thickness grip for vertical movement
The industrial manipulator with thickness grip for vertical movement
The pneumatic industrial manipulator of the ceramic – Easy series is designed to be the ideal answer to any need for handling packs of tiles with thickness grip, both for fragile materials such as coatings and monoporous and heavier materials strapped to several packs.
Thanks to the thickness grip, it is possible to easily handle thicknesses up to 30 cm and to vertically move packs of tiles starting from 2 cm. Thanks to their small size, the industrial manipulators of the ceramic series can be installed on either a classic swing arm or articulated arm with floor fixing, or in a trolley-mounted version on mobile systems (with a base that can be forked using a forklift).
Thanks to its forty years of experience at the service of the most diverse industrial sectors, United Symbol is thus able to offer today through the industrial manipulators of the ceramic series, a complete range of solutions that combine great performance, total safety and simple use and intuitive.
Product feature
Version with masonry
Lifting capacity up to 250 kg.
Closing / opening range 2/30 cm
High / low pressure switching device for fragile materials
Lifting stroke 1,200 mm.
Operating range from 3,000 to 6,000 mm.
Operating pressure of 6/7 bar (constant)
Possibility of rotation from 0 ° to 360 °
Trailerable version
Lifting capacity up to 200 kg.
Closing / opening range 2/30 cm
High / low pressure switching device for fragile materials
Lifting stroke 1,200 mm.
Operating range from 2,000 to 3,500 mm.
Operating pressure of 6/7 bar (constant)
Possibility of rotation from 0 ° to 360 °
Technical datasheet
Want more information about this product? Enter here your email and you will be sent the technical documentation and all the details to get in touch with our technicians