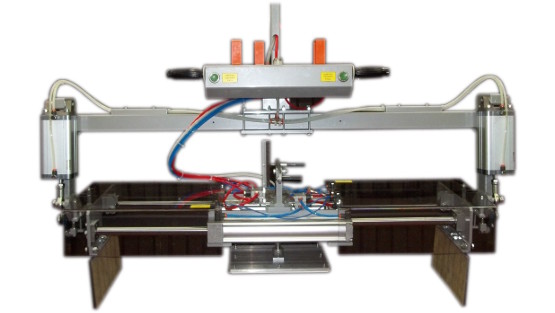 Large
The industrial manipulator for large formats
The industrial manipulator for large formats
The Large Symbol industrial manipulator (50-120SRO) by United Symbol is a prehensile system capable of handling packs of tiles up to 120 cm wide and up to 200 kg in weight in safety. Thanks to its articulated arm and the rotating compressed air distributor, Large allows continuous rotation of 360 °. Furthermore, the gripping member is able to pick up packs of tiles vertically and arrange them horizontally, or vice versa, thanks to the pneumatic 0-90 ° rotation control, thus allowing total flexibility for any type of loading, unloading or palletizing.
Developed by United Symbol thanks to 40 years of experience serving the most diverse production sectors, Large is the ideal industrial manipulator for large ceramic formats, for their handling and order preparation.
Product feature
Leveling base to be fixed to the floor.
Support column with variable height
Flag or articulated arm with a variable radius of action able to rotate 360 °.
Pneumatic lifting cylinder with amortized limit switches (liftable weight 200 kg.).
Rotating distributor of compressed air that allows the gripper to rotate continuously for 360 °.
Gripping tool (gripper) suitable for picking up single packages or boxes strapped together with dimensions and thicknesses from 50 to 120 cm.
Handlebar controls for pneumatic rotation of 90 °, format change to ensure the balance of grip and variation in-depth to determine the number of packages to be picked up.
Pneumatic system wired onboard ready for connection to the power supply.
Technical datasheet
Want more information about this product? Enter here your email and you will be sent the technical documentation and all the details to get in touch with our technicians