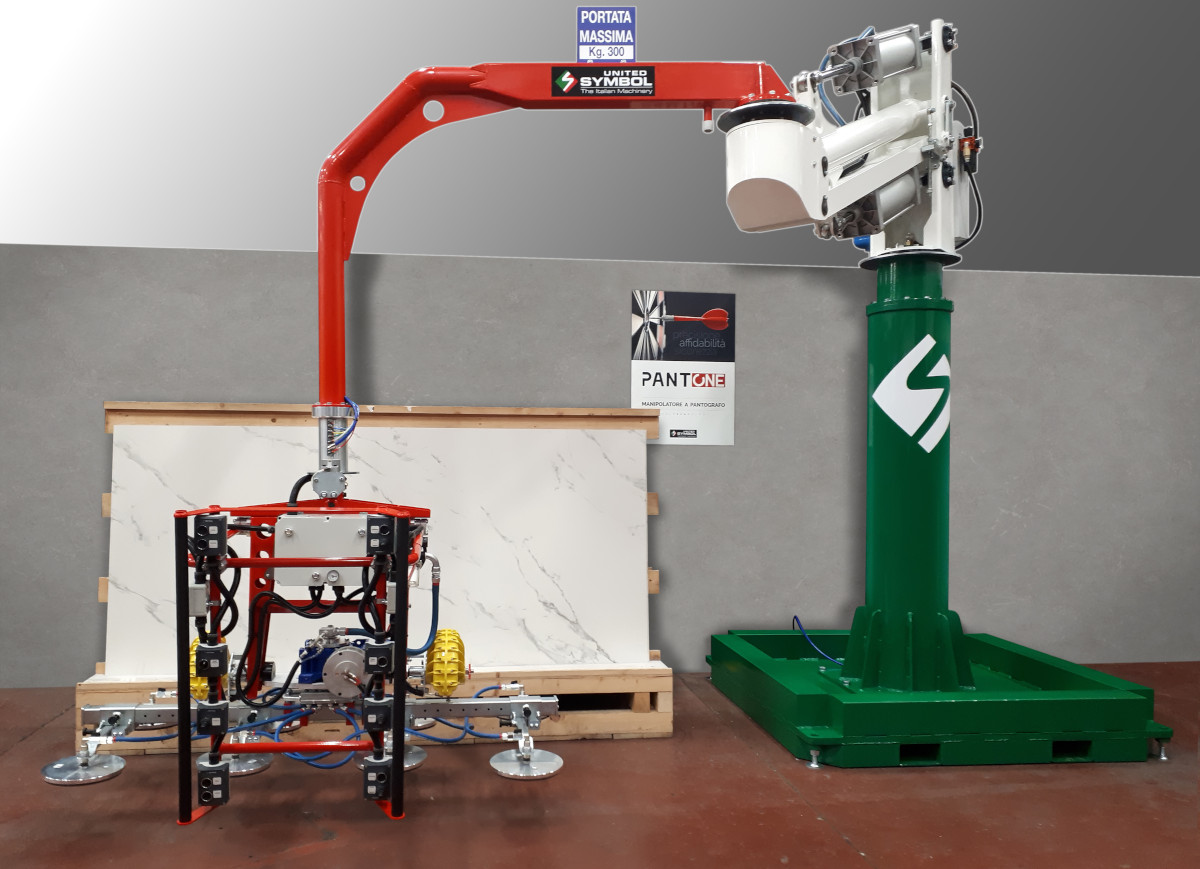 PantONE
The semi-automatic industrial manipulator for lifting and 360 ° rotation of large slabs. Gripper with adjustable suction cups, lifting up to 300 kg.

PantONE is the semi-automatic industrial manipulator for
lifting and 360 ° rotation of large slabs.
PantONE is the new semi-automatic, fast, safe and reliable industrial manipulator, specially designed for the movement of large slabs, up to 1620×3240 mm and with thickness up to 20 mm. Thanks to the pantograph arm and perfect inertia control, PantONE is equipped with extreme precision and exceptional control: each axis can be braked via impulse control or for parking. The safety system guarantees the grip of the sheet even in emergency conditions, also avoiding accidental release by the operator. The rotary pneumatic motors allow to control the plate rotations without oscillations and with the possibility to rotate 360 ​​° vertically, ideal for large size "standing" and for working on all four sides.
PantONE is a fully pneumatic industrial manipulator and equipped with an air economizer to reduce consumption. The gripping takes place with anti-stain suction cups for structures equipped with a convenient change of the only sealing gasket, adjustable both longitudinally and transversely by means of a practical attachment on a sliding frame, to be able to adapt to any type of processing (kitchen top, bathroom, etc.). The zero weight emptying function makes it agile in movements following the operator's intentions.
The industrial manipulator can be made trolley-mounted by means of a self-supporting base. The leveling of the structure is guaranteed by means of a special adjustment system both for mounting on masonry and in the trolley version.
Product feature
Rotations from horizontal to vertical + 360 ° with rotary pneumatic motors.
Selector to activate the parking brake.
Impulse brake to manage inertia.
Economizer vacuum generator: once the required vacuum level is reached, it stops the request for compressed air, significantly reducing consumption.
Quick and precise movements thanks to the pantograph arm and zero weight emptying function.
New gripping device with individually adjustable and excludable suction cups.
Working radius: 360 ° continuously.
Technical characteristics
Lifting capacity: 300 kg
Lifting stroke: 1.750 mm
Operating radius: 3,500 mm -360 ° continuously
Slabs range: up to 1.620×3.240 mm.
Working pressure: 6/7 constant bars
Air consumption: variable / air economizer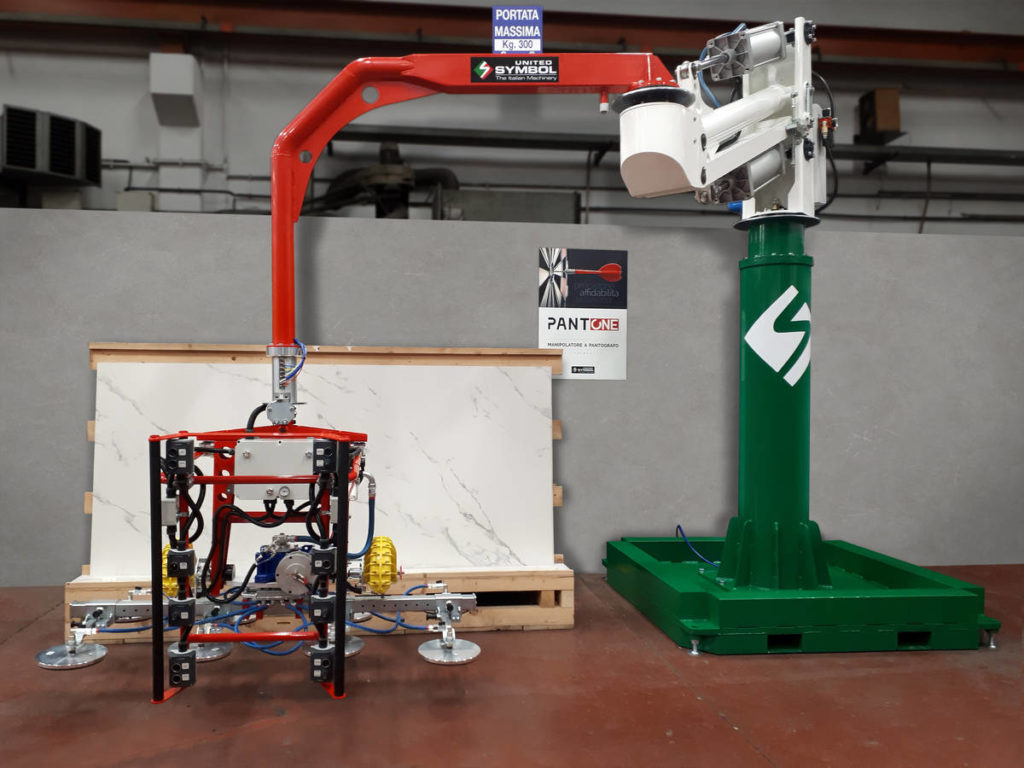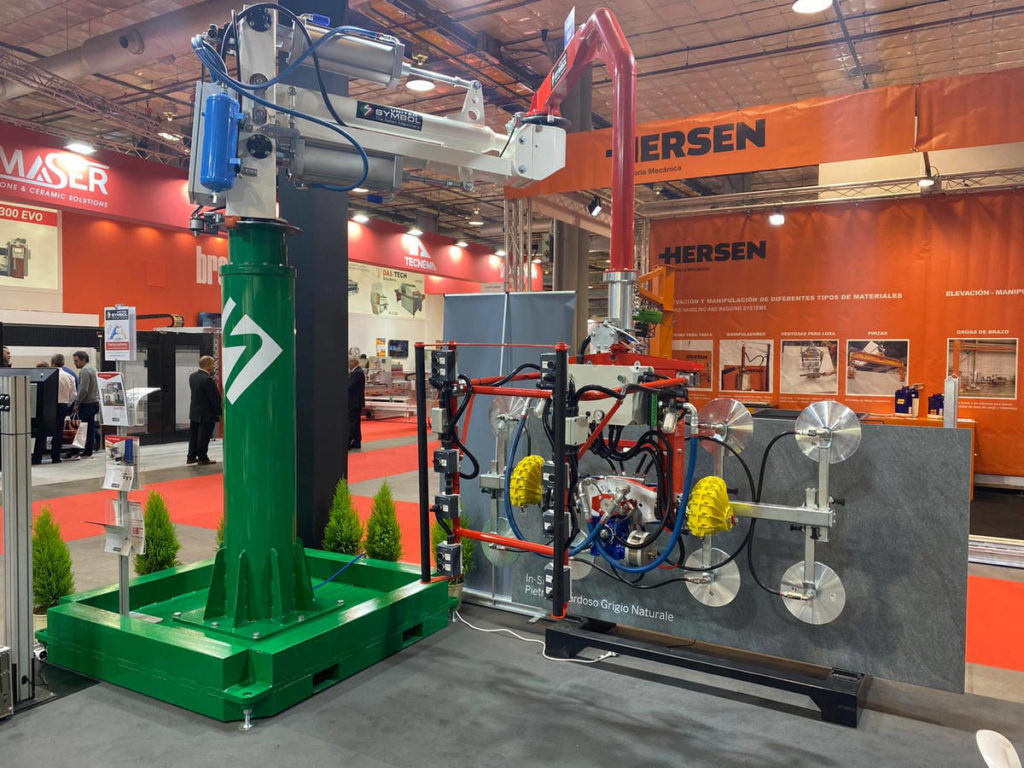 Technical datasheet
Want more information about this product? Enter here your email and you will be sent the technical documentation and all the details to get in touch with our technicians