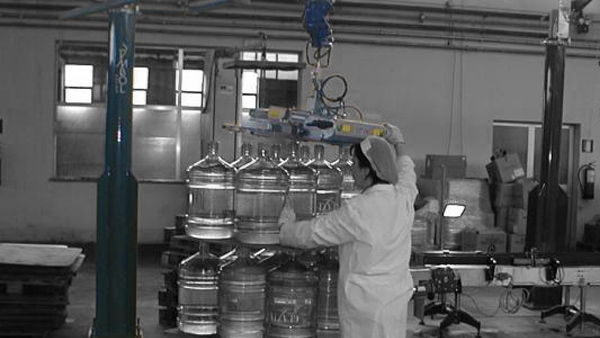 Tank
The definitive industrial manipulator for water cooler bottles
The definitive industrial manipulator for water cooler bottles
The industrial manipulator developed by United Symbol specifically for the palletization of the bottles is the ideal solution that responds to this specific application, where it is essential to operate at the same time with great strength and precision. Thanks to special gripping elements that allow rotation of 90 °, it is possible to position the multiple gripping of cans in the storage rack, which are then rotated and aligned through special levers and rotating heads placed on the prehensile system. The operator can then proceed to pick up from the line in total safety and with extreme rapidity.
The long experience of United Symbol alongside companies operating in the bottling sector has thus made possible the creation of an industrial manipulator custom-designed for every need of palletizing bottles, with particular reference to the 18.9-liter models. It thus becomes possible to optimize production times and costs, making work more efficient and maintaining high safety standards.
Thanks to their small size, the industrial manipulators of the tank series can be installed both on a classic swing arm or articulated arm with floor fixing and in a trolley-mounted version on mobile systems (with a base that can be forked using a forklift).
Product feature
Lifting capacity up to 150 kg.
Configurable gripping system with 3/3 + 2/4 + 3 cans
Lifting stroke 1,200 mm.
Installation with fixing on the ground or on a trolley base
360 ° rotation of the gripping member
Pneumatic levers for rotating and palletizing on racks
Technical datasheet
Want more information about this product? Enter here your email and you will be sent the technical documentation and all the details to get in touch with our technicians