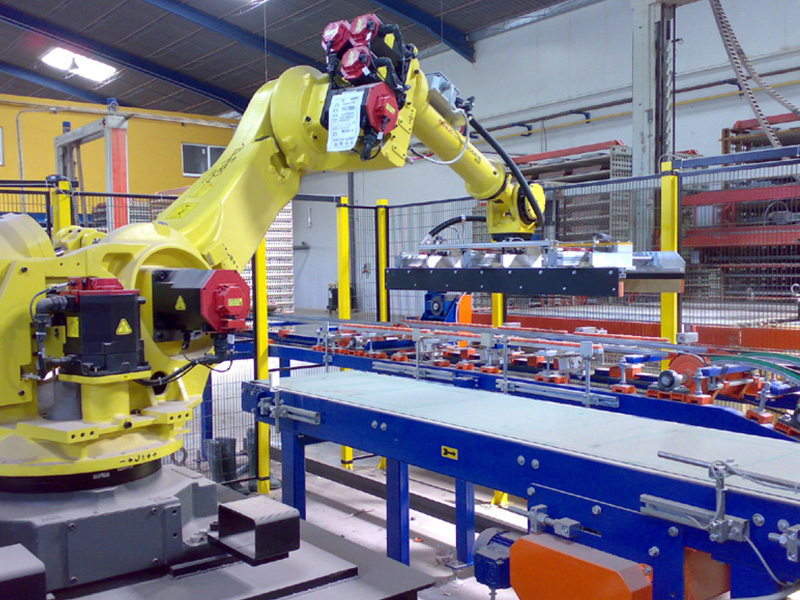 Dried product unloading systems
Systems for unloading from dryers in brick and extruded or structural ceramic plants
Systems for unloading from dryers in brick and extruded or structural ceramic plants
Inside the plants for bricks and extruded or structural ceramic, the dry product unloading systems have the task of moving the products leaving the dryer, directing them towards the cooking ovens and other possible processing phases. For this reason, it is important that they are designed to be flexible and integrated with the most different types of substrates used in the drying phase, such as strips, shelves or plates.
Thanks to forty years of experience serving brick and extruded ceramic systems within leading companies in the sector, United Symbol has developed a wide range of systems for the unloading of dry products, able to satisfy every need. Each type of plant thus finds an ideal solution, whether it be the use of traditional gripper gripping systems or the implementation of anthropomorphic robots.
United Symbol designs each plant starting from the specific needs of each customer, also making and assembling all the equipment for the subsequent movement of the product towards the ovens and any other process phases, such as glazing stations or surface treatment.
To guarantee the highest quality, our specialized technical staff carries out tests on each system built before delivery. In the same way, our assistance service is always available in the after-sales for any need.
Product feature
Design tailored to the needs of each customer
Only the best machines and the best components
Realization of unloading systems for every type of dryer
Test equipment before delivery
Complete assistance Italy – Abroad
Technical datasheet
Want more information about this product? Enter here your email and you will be sent the technical documentation and all the details to get in touch with our technicians