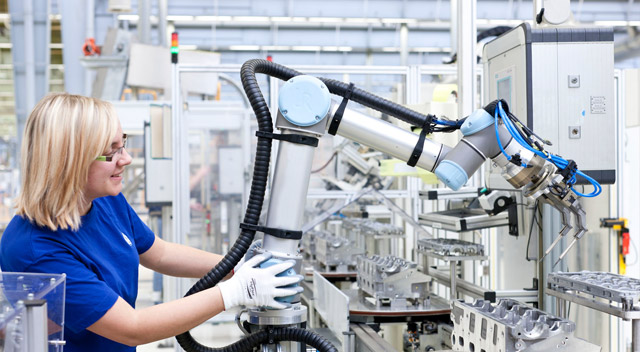 Collaborative robotics
The latest generation of collaborative robotics available to every application and industrial sector
The latest generation of collaborative robotics available to every application and industrial sector
The so-called cobots, the latest generation of collaborative robots, today represent one of the fronts of greater development of industrial processes and mark the way for companies of all sizes and in every sector who want to invest in growth and development. Thanks to the possibility of programming repetitive movements with extreme efficiency and precision, the collaborative robots lend themselves to an almost infinite number of operations, thus allowing to always obtain constant results and high-quality standards in the most diverse applications and production areas.
From machine tending to assembly, from positioning to picking, to end-of-line packaging, cobots can be implemented at every stage of the production process, relieving operators of mechanical and repetitive tasks, and allowing the know-how of the staff to be concentrated on those phases that bring greater added value to the company.
Thanks to the experience gained in the creation of lines and systems for the most diverse industrial sectors, United Symbol is the ideal partner to bring the benefits of collaborative robotics to each company. Whether it is the design of new plants or the implementation of new equipment within production lines already in operation, we are able to provide turnkey solutions for every need. Our partners in this field are the leading global companies in the production of collaborative robots and we are therefore always able to identify the best equipment and accessories on the market for each specific application. Finally, the quality of each of our creations is always guaranteed by the in-house checks carried out before delivery and by our after-sales assistance, always available.
Product feature
Customized design starting from the needs of each client
Only the best international partners for the supply of machines and components
Realization of turnkey plants and assembly of single equipment
In-house test before delivery
Training of personnel in the company by our qualified technicians
Complete assistance Italy – Abroad
Technical datasheet
Want more information about this product? Enter here your email and you will be sent the technical documentation and all the details to get in touch with our technicians